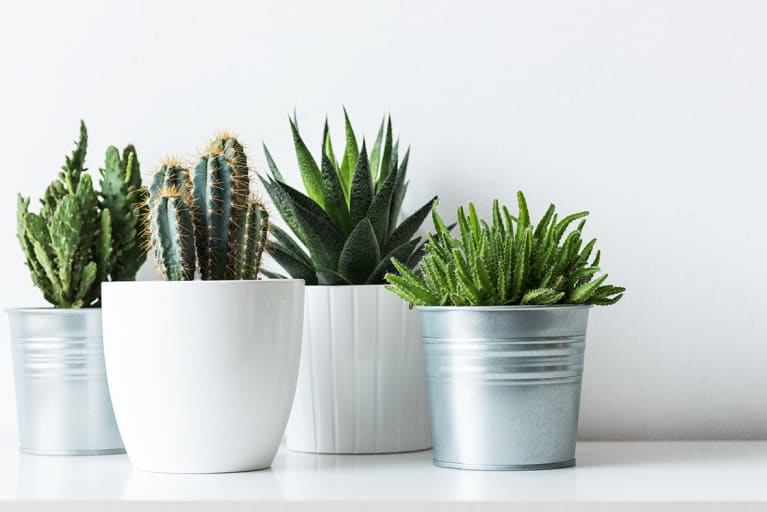 Since I've moved I have found a new obsession…plants. I am now a self confessed plant mum and I'm bloody loving it. I went through a bit of a spree as soon as we moved in as I was desperate to make the place full of colour and life. I thought I would share with you which plants I'm currently nurturing and what I want to get next. I'm by no means an expert in plant care, I just tend to find trail & error works best for me. I just keep an eye on them and if they don't look like they're thriving where they are, I move them around.
Dracaena Corn Plant
This is the first plant that I got that started my obsession. I found it in Asda of all places (they actually have some really nice indoor plants), and what I really enjoy is they can come with some really nice pots. It was only £4, and it seems to be doing really well. We have it in our bathroom on on the window sill, so it has plenty light and moisture. The leaves are a little wrinkled and I'm not sure why, but I've just purchased some indoor plant food so I'm hoping that might bring a bit more life into the leaves.
Spider Plant
I've always loved spider plants and plants in a similar family (as you'll probably guess by the style of a lot of the other plants). The one I've got is super cute and so easy to look after. At the moment it's on or desk next to the window, so gets a lot of natural light- it seems to do really well here.
Madagascar Dragon Tree
I had been looking for a larger plant/tree for our living room to really add some life and colour into the space. I saw these trees at B&Q and thought they would be perfect. I got the larger size and it was £28, which I still think is really affordable. It doesn't seem to need a lot of water and it gets partial sun.
Peace Lily
The peace lily is so interesting and I find it really shows you what it needs. I've found it before, where the leaves are really drooping down and curled, so I've given it some water and it just comes back to life. It's a pretty low maintenance plant – and fun fact is one that purifies the air so if you have it in the bedroom it can help you sleep.
Snake Plant
I love my snake plant because it is so E A S Y. We have it just on our little tray table next to the sofa, and I love it. I've moved it around a few times but it's so low maintenance you can move it around without the fear of killing it. This was such a bargain as well, again from Asda, it was £6 but that includes the nice sleek grey pot that it's in.
Prayer Plant
This is a newer addition to my collection that I picked up from a small independent place in York called Botanic. Their shop is so cute and has such a range of beautiful indoor plants, I can see myself spending a generous amount of time and money there. They were also so helpful and wrote plant care cards for the 2 different plants that I bought, which is just perfect for a new plant person like me. I am loving this plant so far, at the moment we have it in the corner of our living space because it likes partial to full shade. It's so cool as well as the leaves will move depending on the amount of light.
Banyan Plant
This is another new addition I picked up from Botanic in York. If you live in York and love indoor plants, go and check them out, they are amazing. This plant loves sunlight, which is perfect for our flat as we have a lot of windows and get sunlight throughout the whole day. It's currently on the window sill in our bedroom, as I realised the urban jungle that I had created was just in the living space. It's such a cute and neat plant, I really like the look of it.
Anthurium Plant
This was an impulse buy (again from Asda!!) that I picked up when I was grocery shopping. I loved the colour of the leaves and the gorgeous teal pot it came in. I've not decided where this ones home is yet, but after reading up on it, looks like they need a lot of light- which is perfect.
-What do I want next?-
After being into Botanic and reading about lots of different indoor plants I have a few ideas of what I want next. I would like some kind of hanging plant/draping plant….I think this would look really cool on our corner shelves in the kitchen. I'm also think another tall tree/plant for the bathroom as it just isn't green enough for me in there. I would love to hear any suggestions that you've got for indoor house low maintenance plants!
Thank you for reading!